Giving Back
Window Ware are proud to support a nominated charity each year, and the chosen charity for 2021 is Sue Ryder St John's Hospice who care for people who are approaching the end of their lives with progressive conditions.
Keep up to date with charity news and events here
15th August - Window Ware completes GM Fundraising #GMF100 cycle challenge to support seriously ill children and their families – Team Window Ware peddled their socks off by cycling 100 miles in support of Hope House & TY Gobaith hospices. The team clocked up a total of 132 miles and finished the race at Victoria Pendleton's gold post box.
We loved every minute and have raised a total of £400 so far. #Forthekids
21st April – Springtime joy for families fleeing abuse – This Spring, Window Ware teamed up with Watton Recruitment to support not one but two charitable projects to help bring double delight to both mums and children living in local shelters to escape domestic violence.
In March, our team donated toiletries and treats to create Mother's Day goody bags as a little thank you from the children to their mums for keeping them safe. The following month, we were collecting donations again in aid of YMCA Bedfordshire's Easter appeal - this time in the form of craft supplies and activities to keep kids entertained over the Easter weekend and make up for the fact that the communal areas in the homes were closed because of COVID. There was even a cheeky chocolate egg thrown into each craft pack for good measure!
We love supporting this worthy cause and sharing a little spring time joy with deserving families like these who have survived violence or abuse at home and are trying to make a better future for themselves.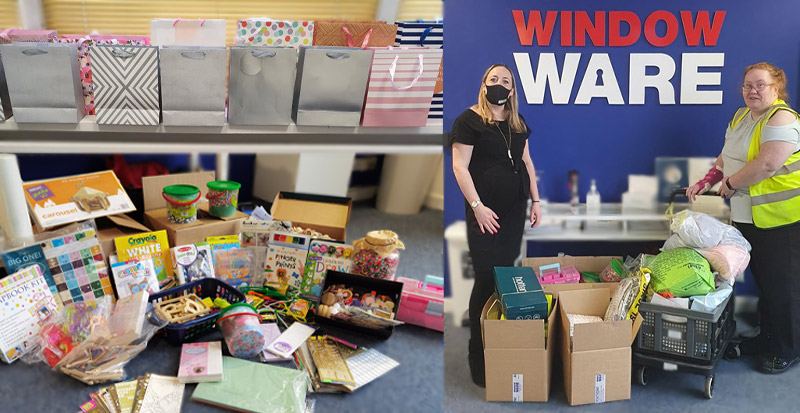 3rd February 2021 – 2020 Fundraising Round-up – Charities struggled last year because the pandemic cancelled many fund-raising events and caused a drastic drop in donations. That meant we had to get a bit more creative about how we could support our nominated charity, Sue Ryder St. John's Hospice, during 2020.
We got the year off to a great start and by the time the first lockdown hit in March, the Trade Counter Tuck Shop and collection boxes had already managed to raise an impressive £340.43. In April, when face masks and hand sanitiser were like gold dust, we donated much-needed PPE to our friends at the hospice so they could continue their work safely. Then in May, some of our colleagues took on the 2.6 challenge from home to walk, cycle, bounce, burpee and bench press their way to raising a further £412 for Sue Ryder.
All in all, we raised an amazing £1,571.64 for Sue Ryder last year! Thanks to everyone who carried on giving and quietly did their bit to support the hospice during COVID times when they needed help more than ever.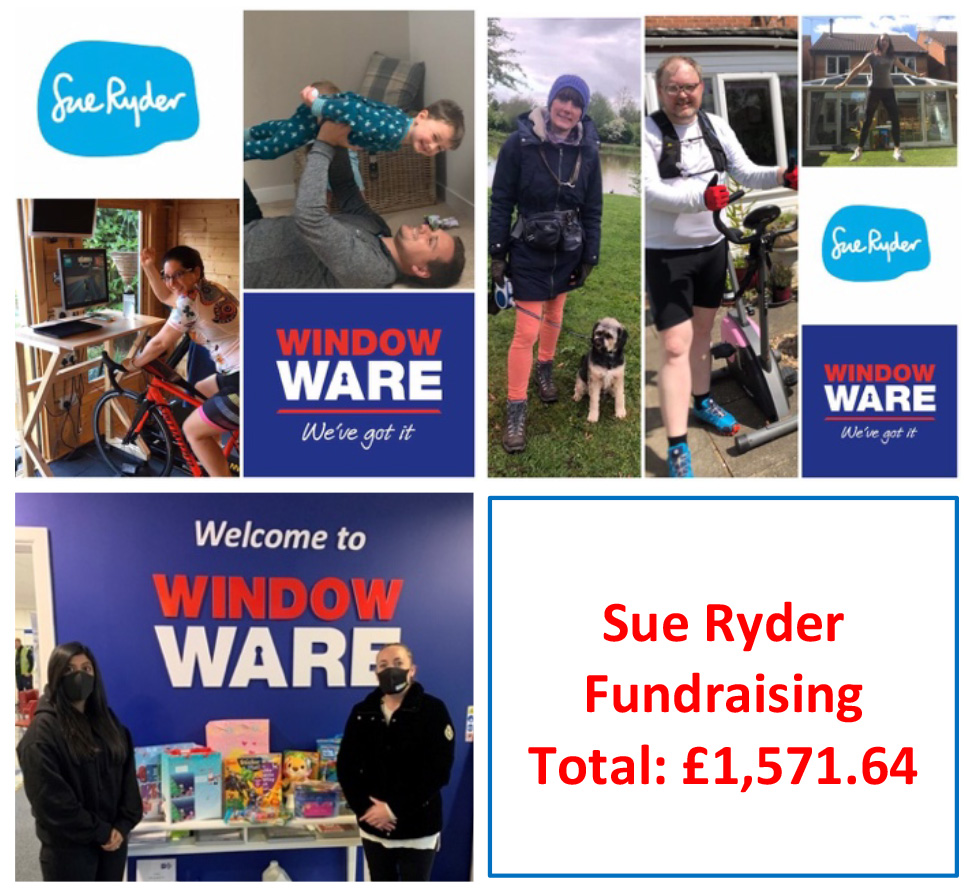 10th December 2020 – Striving to make even a COVID Christmas merry! – We've probably all moaned about being cooped up inside during lockdown, but at least most of us are lucky enough to feel safe in our own homes. That's not the case for women and children living with domestic abuse. This year's lockdowns have meant they've been trapped in fear behind closed doors with their abusers. In fact, incidents of domestic abuse rose by around 20% in 2020.
That's why, for the third year running, Window Ware has supported YMCA Bedfordshire and Watton recruitment with their 'Make Christmas Merry' appeal by donating gifts to local woman and children escaping domestic violence. There's no doubt, this year has proved tougher than most for these vulnerable people, but we hope each present will provide a little glimmer of light at the end of what has probably felt like a very long tunnel at times!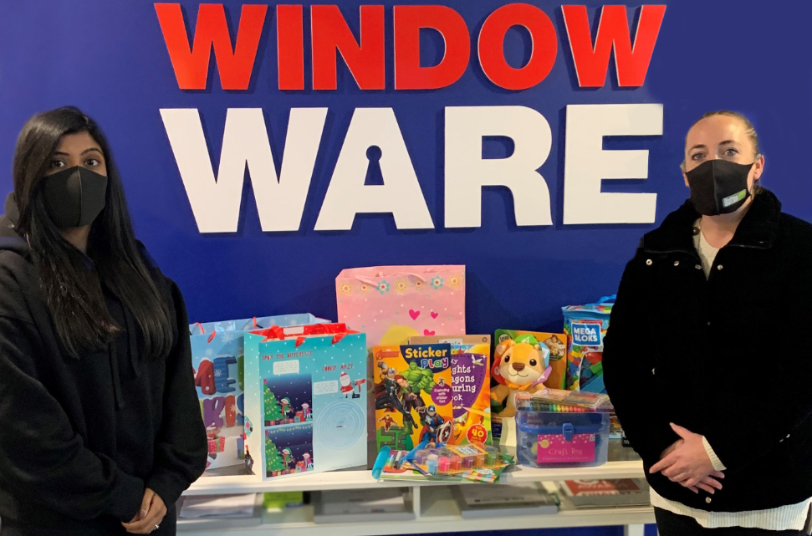 17th February 2020 – Peak, Paddle Pedal for Hope House Children's Hospice – Window Ware's Managing Director, Sam Nuckey will be climbing, kayaking and cycling to support terminally ill children. She'll be joined by 11 other industry ladies to take part in GM fundraising's 2020 Peak, Paddle, Pedal women-only event to raise money for Hope House Children's Hospice.
We hope you'll join us in wishing Sam and her teammates the very best of luck as they start their training and embark on their biggest challenge yet. You can keep an eye out for further updates by following #GMFPPP and #forthekids on social media – and if you'd like to sponsor their efforts, you can donate here.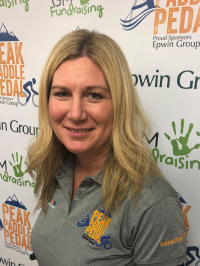 Tuesday 2nd January 2020 – Top results for 2019 fund-raising total – Our big-hearted colleagues, customers and suppliers have done it again! Together, we've managed to hit our 2019 fund-raising target having collected a mighty £1568.61 over the course of the year for our nominated local good cause: Sue Ryder St. John's Hospice in Moggerhanger, Bedfordshire. Whether you wore a wig, sponsored a head shave, bought raffle tickets, raided the Trade Counter tuck shop or dropped a coin in our collection tins, thanks to everybody who dug deep and got involved to support our nominated charity. We hope you'll keep up the good work in 2020, because Sue Ryder has once again won our vote to become Window Ware's nominated charity for the coming year. Keep the pennies rolling in people!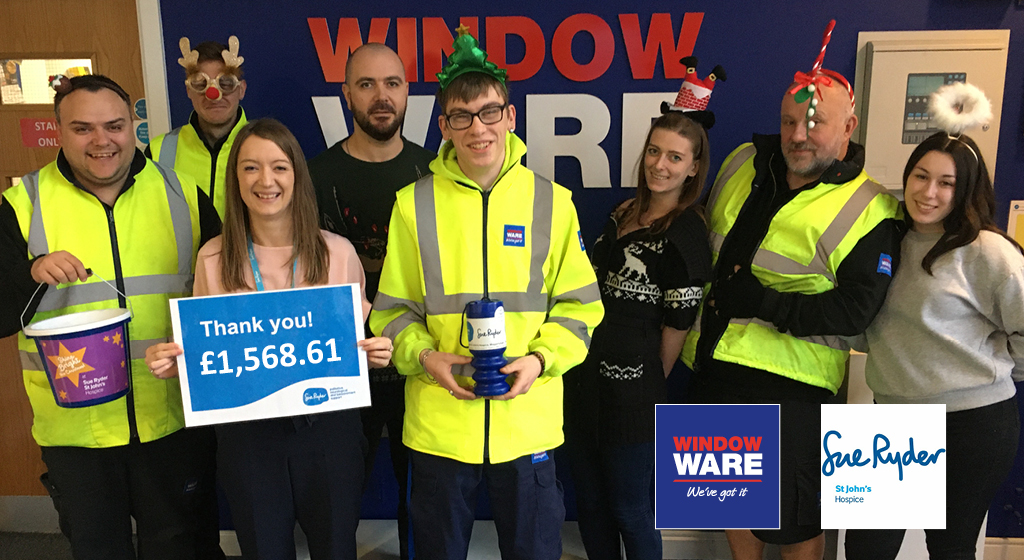 Friday 27th September 2019 - Cakes, cuppas & cash – Over the course of two days, the Window Ware Trade Counter took part in the World's Biggest Coffee Morning in aid of Macmillan Cancer Support. Our team of big-hearted bakers came up trumps with a tempting selection of sweet and savoury delights, including cakes, brownies, doughnuts, scones, sausage rolls, quiches and more! As usual, customers and colleagues stepped up to the plate, bringing their hearty appetites and their cash to the tea party! Now that the crumbs have been swept and the donation boxes counted, we can reveal we raised a whopping £190! Thanks to everyone who baked, bought, munched and donated!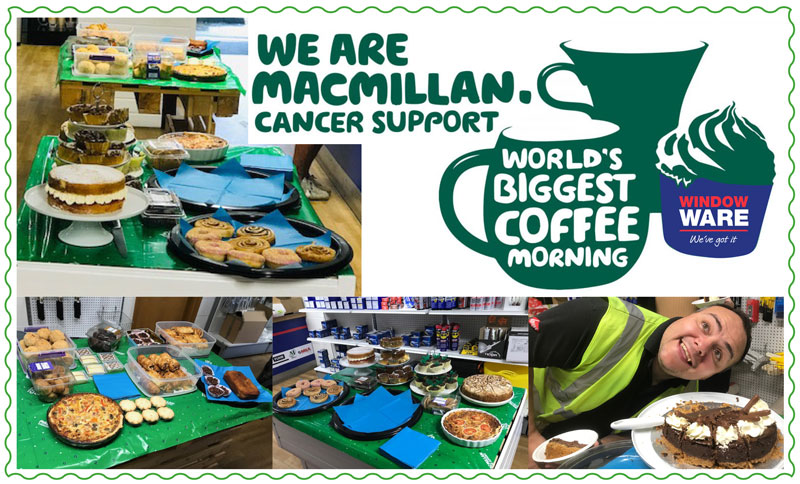 Monday 16th September 2019 – Wig-gle giggle– Despite the dreary September weather, we chose to look on the bright side by wearing a rainbow of wigs, hats and headgear to celebrate the completion of chemotherapy treatment for our colleague Sharon. Through wig rental fees and cash donations, we managed to raise £200 in aid of our nominated local charity Sue Ryder St. John's hospice. It was a feel-good hair day all round!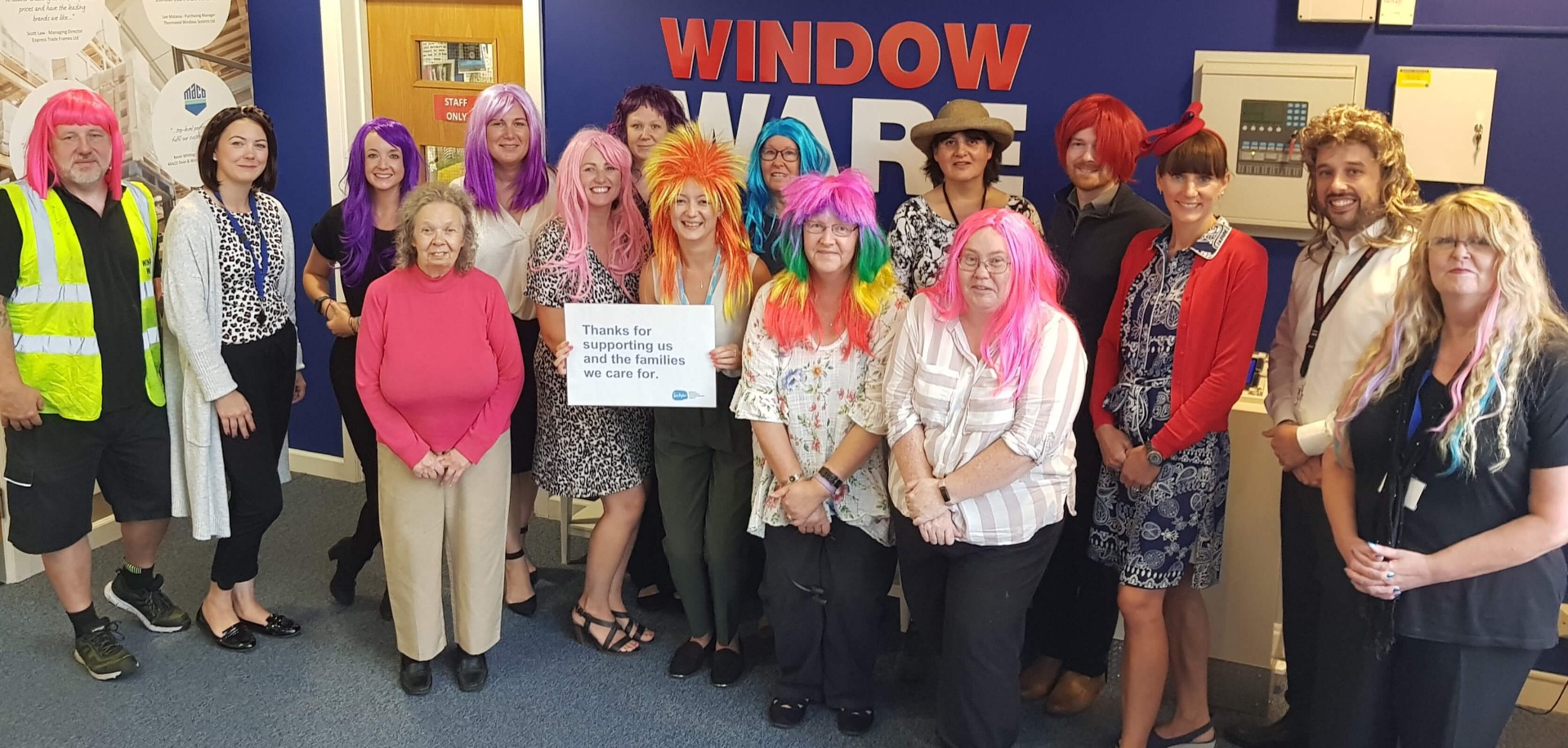 Saturday 22nd June 2019 – Gloves off against cancer! – This weekend, after months of healthy eating and intensive training, and weighing 2 stone lighter than when he started, our Trade Counter Assistant, Andrew Tollett, fought in a UWCB charity boxing match in aid of Cancer Research UK. His opponent was 20 years his junior, almost half a foot taller and had 6 undefeated fights under his belt. And although Andrew didn't win, he held his own and stayed in the ring till the end of the 3rd round – a solid result. On top of all that, he managed to raise over £2110 - a truly stupendous sum. Needless to say, his friends, family and colleagues are all immensely proud of him. And how did Andrew celebrate his achievement? By tucking into a well-deserved KFC family bucket of course!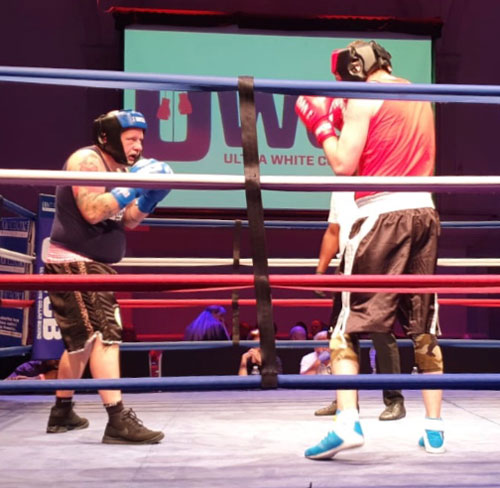 10th June 2019 – Blister Sister Success– This weekend, Window Ware's Head of Internal Sales and Marketing, Sarah Binns took part in the South Coast Mighty Hike – a 26.2 mile cross-country trek from Brighton Racecouse to Eastbourne in aid of Macmillian Cancer Support. She was joined by 5 other friends (AKA The Blister Sisters) and they all managed to battle 50mph winds and hailstones to complete the course in a foot-throbbing 9 hours and 22 minutes - despite blisters, dodgy knees, aching legs and twinging hips! They also smashed their fund-raising target of £1500 to collect an impressive £2,770! Sarah would like to say a massive thank you to everyone who sponsored her.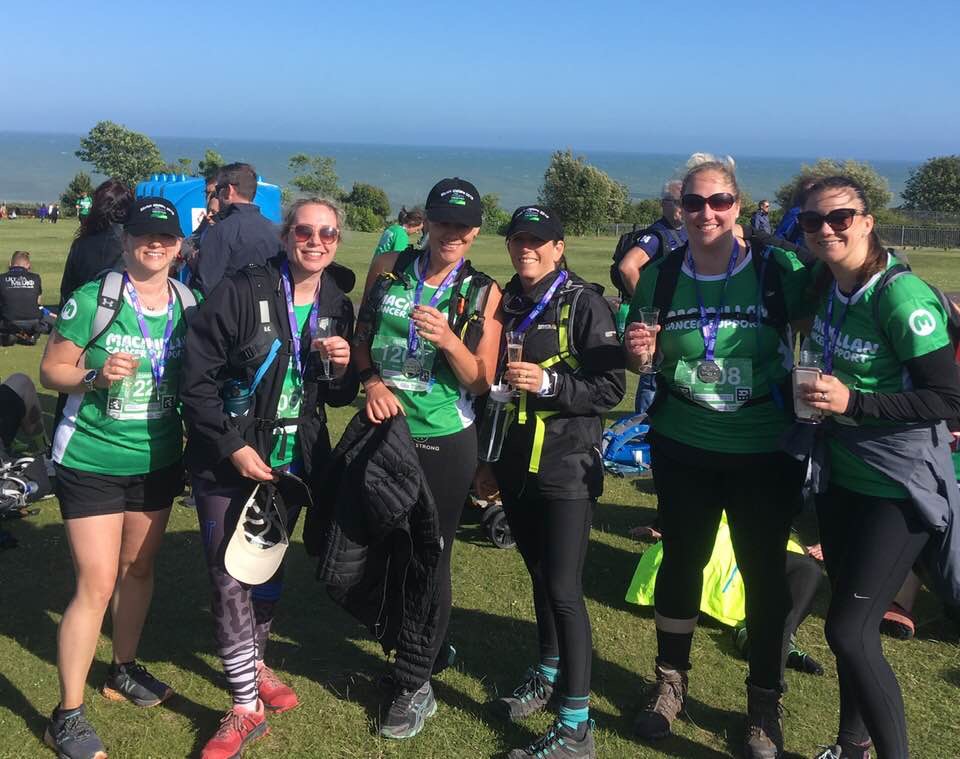 17th April 2019 – Charity head shave – Our brave credit control manager, Sharon Fowler, will soon undergo chemotherapy. But instead of mourning the loss of her hair, she decided to take charge of the situation and beat the follicle fall-out with a sponsored head shave! Sharon was determined to turn a negative situation into a positive one by raising £1000 to support the care of fellow cancer suffers as well as terminally ill patients. Sharon's head was shaved in two stages for maximum fund-raising returns! The first half was shaved in the afternoon here at the Window Ware Bedford offices, with all proceeds going to Sue Ryder St Johns Hospice. The other half was clipped off later that same evening at her local pub in aid of Macmillan Cancer Support. Friends, family and colleagues were there to lend their support and dig deep to help her reach her fundraising goal. Even before the head shave was finished, Sharon had decided to wear her green wig to a hospital appointment the very next day, hoping to delight the nurses! Talk about looking on the bright side! There's still time to donate – https://justgiving.com/fundraising/sharon-frogsshave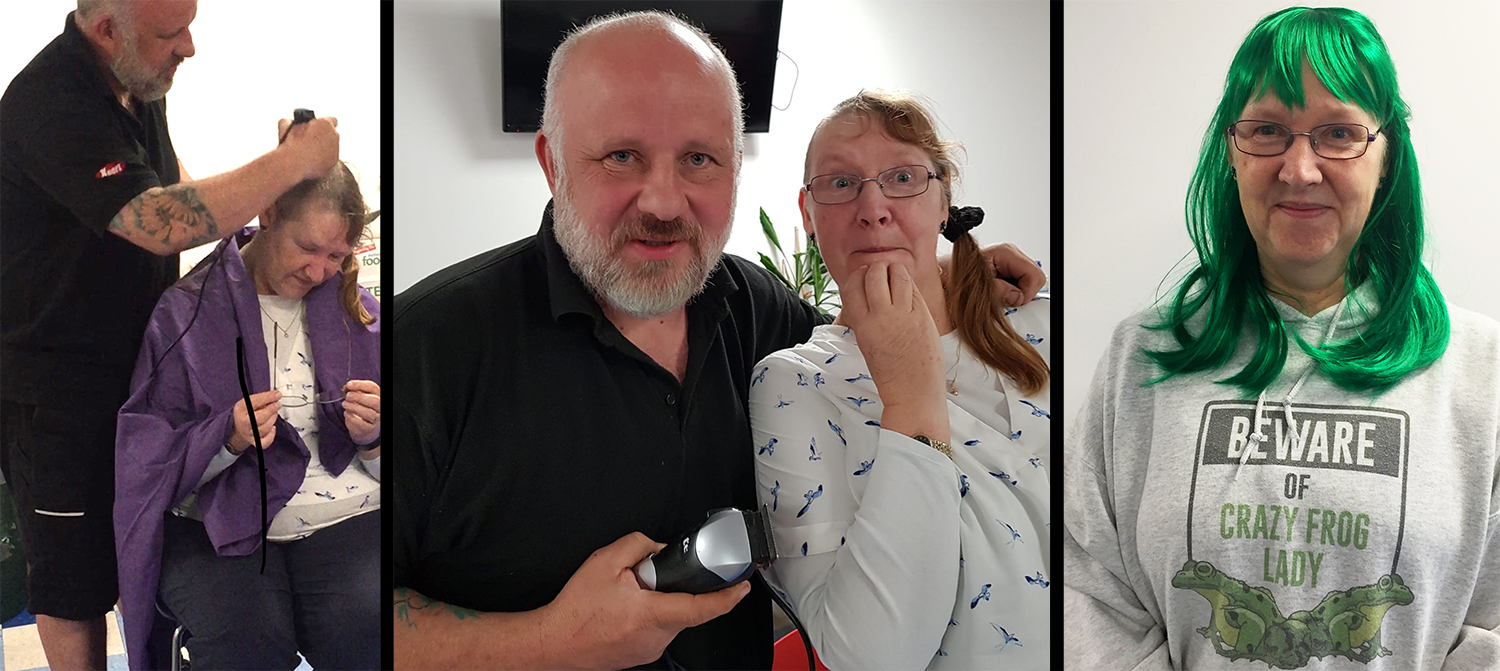 17th April 2019 – Charity chocolate rush – Today was the grand draw of our Trade Counter's choc-tastic Easter charity raffle. There were 10 prizes up for grabs, but first prize (a mammoth milk chocolate egg) went to our marketing content executive, Vicky Gibson. Judging by the photos, she looks genuinely surprised and delighted! The other prizes went to lucky colleagues and trade counter customers who should have plenty of time to enjoy their booty over the bank holiday. Thanks to their generosity, we managed to raise a magnificent £134 for Macmillan Cancer Support, so well done to everyone who took part.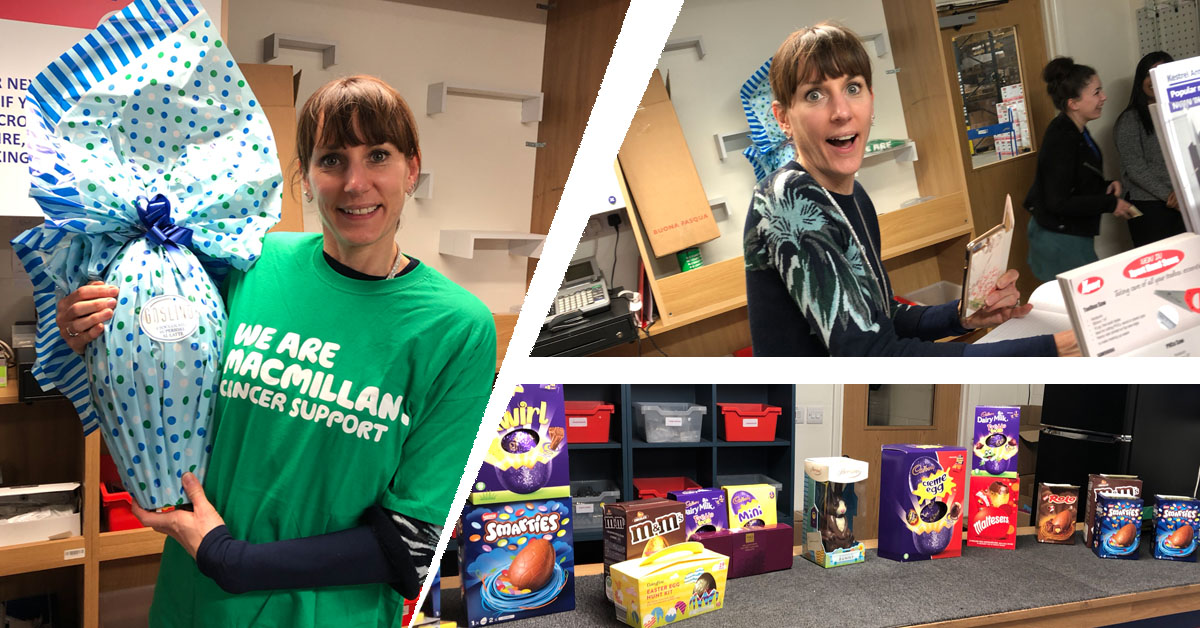 15th April 2019 – Egg-cellent cause – This stack of goodies was bound for Watton Recruitment in support of their annual Easter campaign. The chocolate eggs and sweets will be distributed to needy people via three regional charities: YMCA Bedford's women's refuge, The King Arms project for the homeless community in Bedford and FACES, supporting local families under stress. It's our pleasure to support these worthwhile causes. We hope our small contribution will bring a little Springtime joy to disadvantaged adults and children across the county.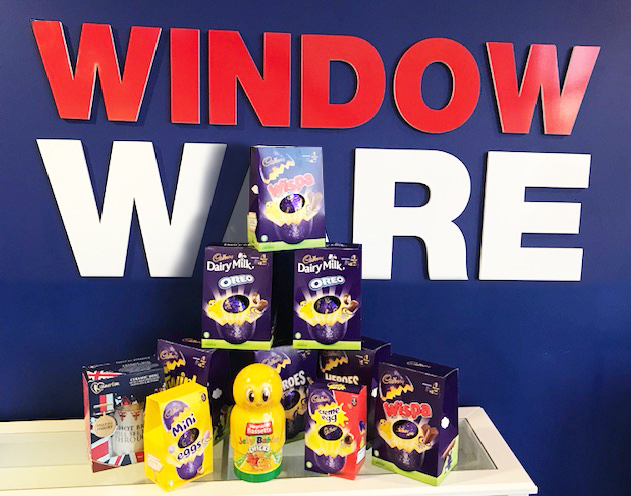 25th February 2019 - Giving feels good - In December last year, Watton Recruitment and YMCA Bedfordshire approached us about supporting their Xmas gift appeal for women and children who have escaped domestic abuse. Naturally we jumped at the chance to help, so we rallied round and rustled up a selection of presents all bound for deserving recipients who might otherwise not be able to afford to give gifts. Last week, Watton Recruitment shared with us a thank you card they'd received from one of the grateful recipients at the refuge. The woman told us she was "feeling very thankful." She also said the gifts had "made Christmas lots brighter." It's really great to know that our small contribution helped to brighten up their Christmas.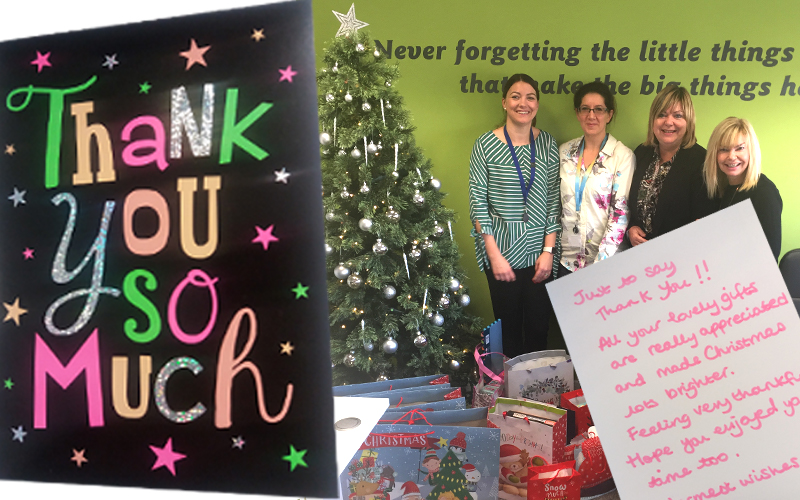 16th January 2019 - Raising the bar on fund-raising! The last collection tins for 2018 have been counted and we can confirm that we've smashed our original fund-raising target for the year by over 20% to raise an impressive £1825.32 in aid of our nominated charity Sue Ryder St John's Hospice. This is enough to pay for 13 days of invaluable nursing care. A big thank you to our generous customers who continue to empty their small change into our Trade Counter collection tins and our colleagues whose bottomless appetites are welcome news for our charity tuck shop! Let's see if we can't boost donations for the coming year to hit our new 2019 target of £2000!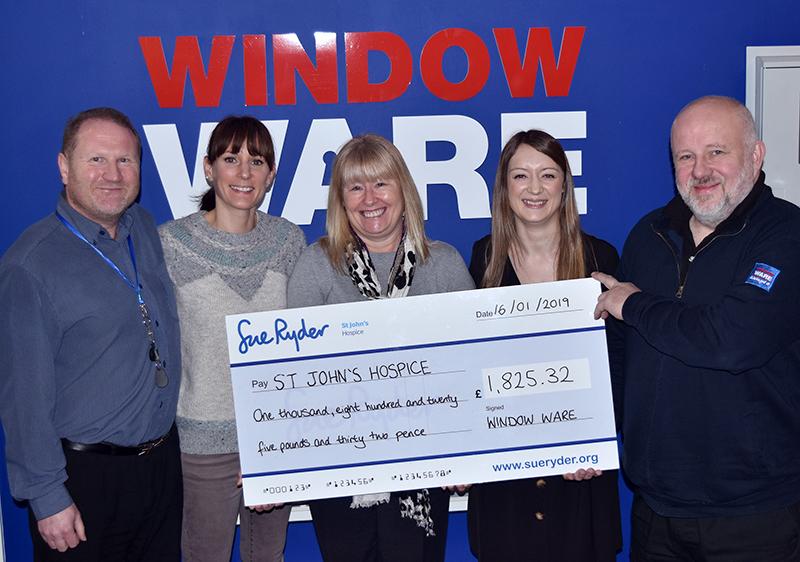 22nd September 2018 - Starlight Hike High-five - Undeterred by a whole day's worth of rain and loosing 2/3rds of its members due to illness, Team Window Ware donned the waterproofs to take part in the Starlight Hike around Moggerhanger in aid of Sue Ryder St John's hospice. Our dauntless duo (Tara Soul and Vicky Gibson) completed the 10K course in well under 2 hours AND managed to beat our £400 fund-raising target - a brilliant result all round! As usual, it was a fabulous atmosphere on the night, brimming with enthusiasm and solidarity in support of such a worthy cause.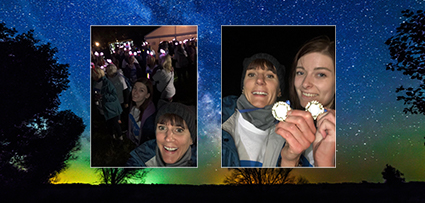 15th July 2018 – Happy ever rafter – Despite scorching temperatures of around 30 degrees, the Window Ware crew managed to keep a cool head when they entered the Bedford River Festival charity raft race. Calling themselves 'Operation Window Ware', our blood-spattered fake medics managed to stay afloat and keep paddling despite getting pelted by eggs and drenched by super soakers! We didn't win, but the fact we managed to cross the finish line in one piece without ending up in the drink, is a triumph in itself!
Although the race is done, there's still time to donate. You can make the oar-sore shoulders and sunburn all worth it by visiting our fundraising web page and giving whatever you can in aid of the Bedford Hospitals Charity Click here to sponsor us.

30th June 2018 – No obstacle too great - Two big-hearted Window Ware co-workers braved the heatwave this weekend to run, climb and crawl for good causes. Roy from warehouse went Gung-Ho in Towcester over a 5K inflatable obstacle course to raise over £400 in aid of Cancer Research UK, McMillian Nurses and Crohn's & Colitis UK. Meanwhile, Sarah Binns, our heads of internal sales and marketing, got down and dirty in the Bedford Pretty Muddy 10k event to collect over £250 for Cancer Research UK. Sun hats off to our intrepid duo of fund-raisers!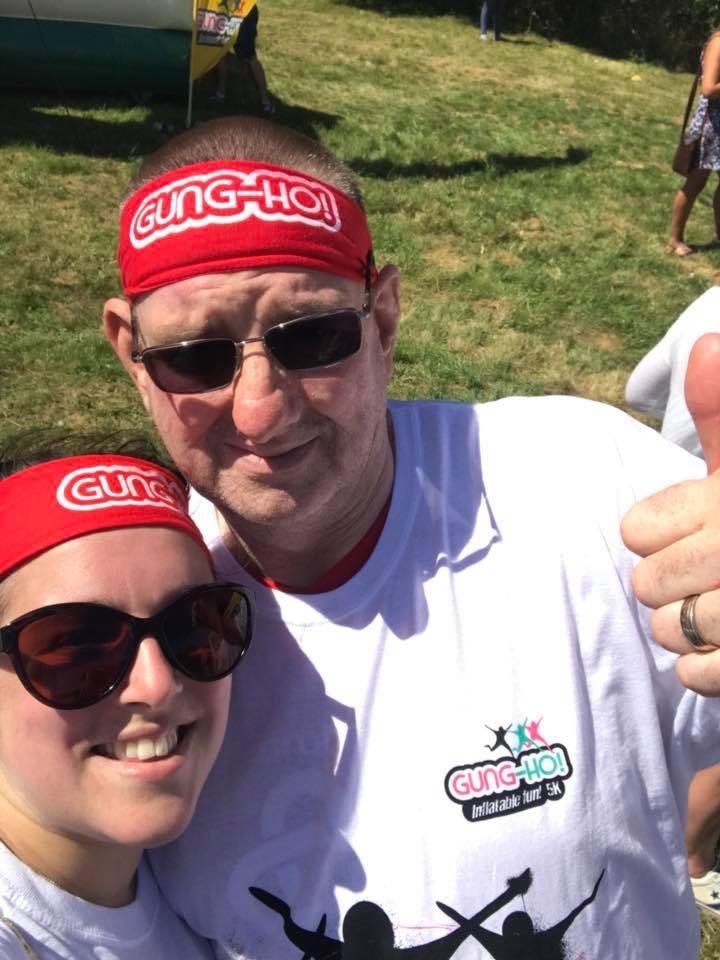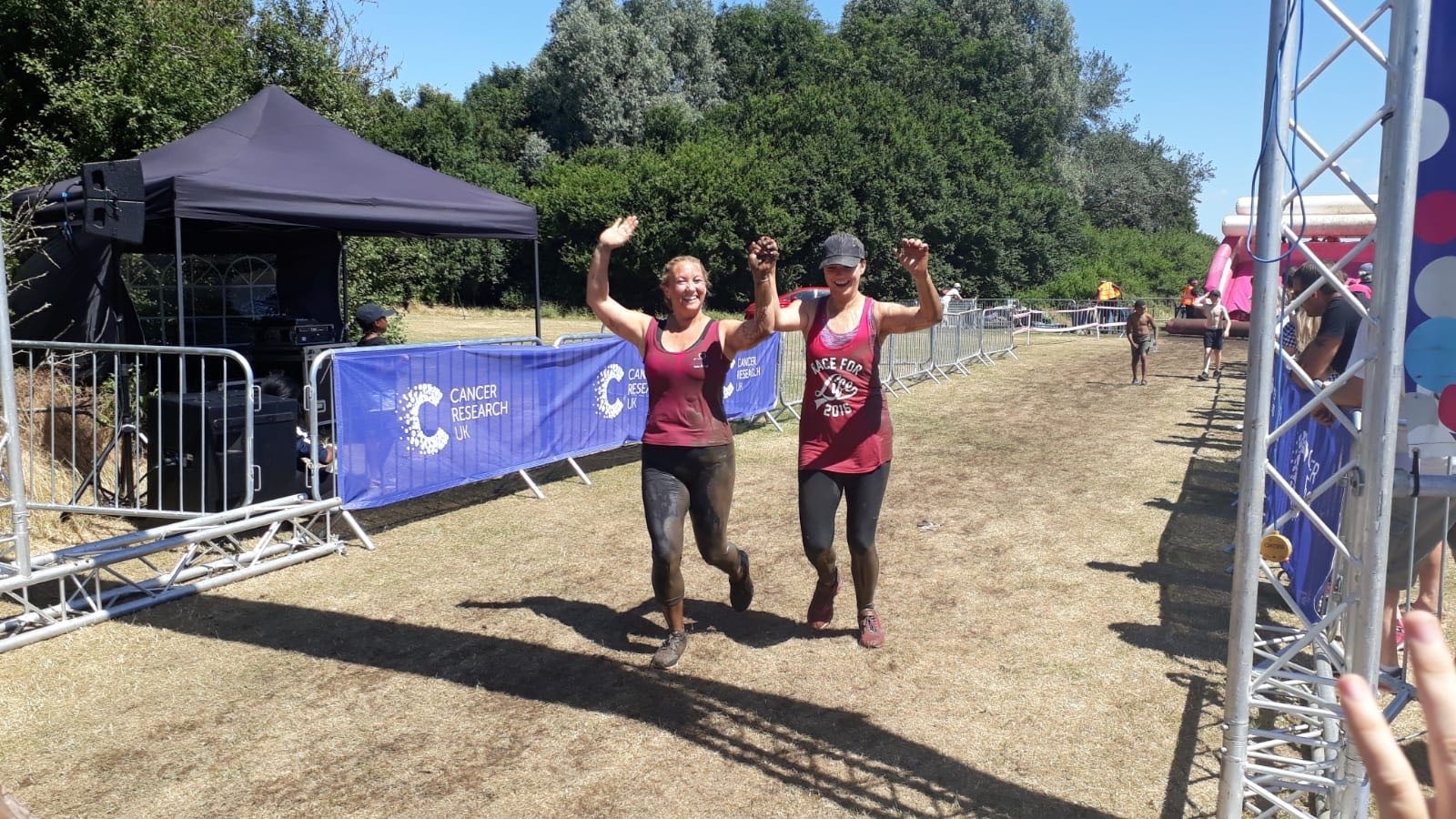 24th June 2018 – Philanthropic peddle power – On a sun-drenched Sunday morning, Window Ware's production manager, Phil Freeman, set off on a 25-mile (turned into 28-miles) Peterborough road cycle event through the picturesque villages of Rockingham Forest. Accompanied by his brother and his 12-year-old niece to form the 'Guardians of the Greenway', they managed to smash their target and raise an impressive £465 for the British Heart Foundation. Every penny will help to fund life-saving research into all kinds of cardiovascular conditions in children and adults.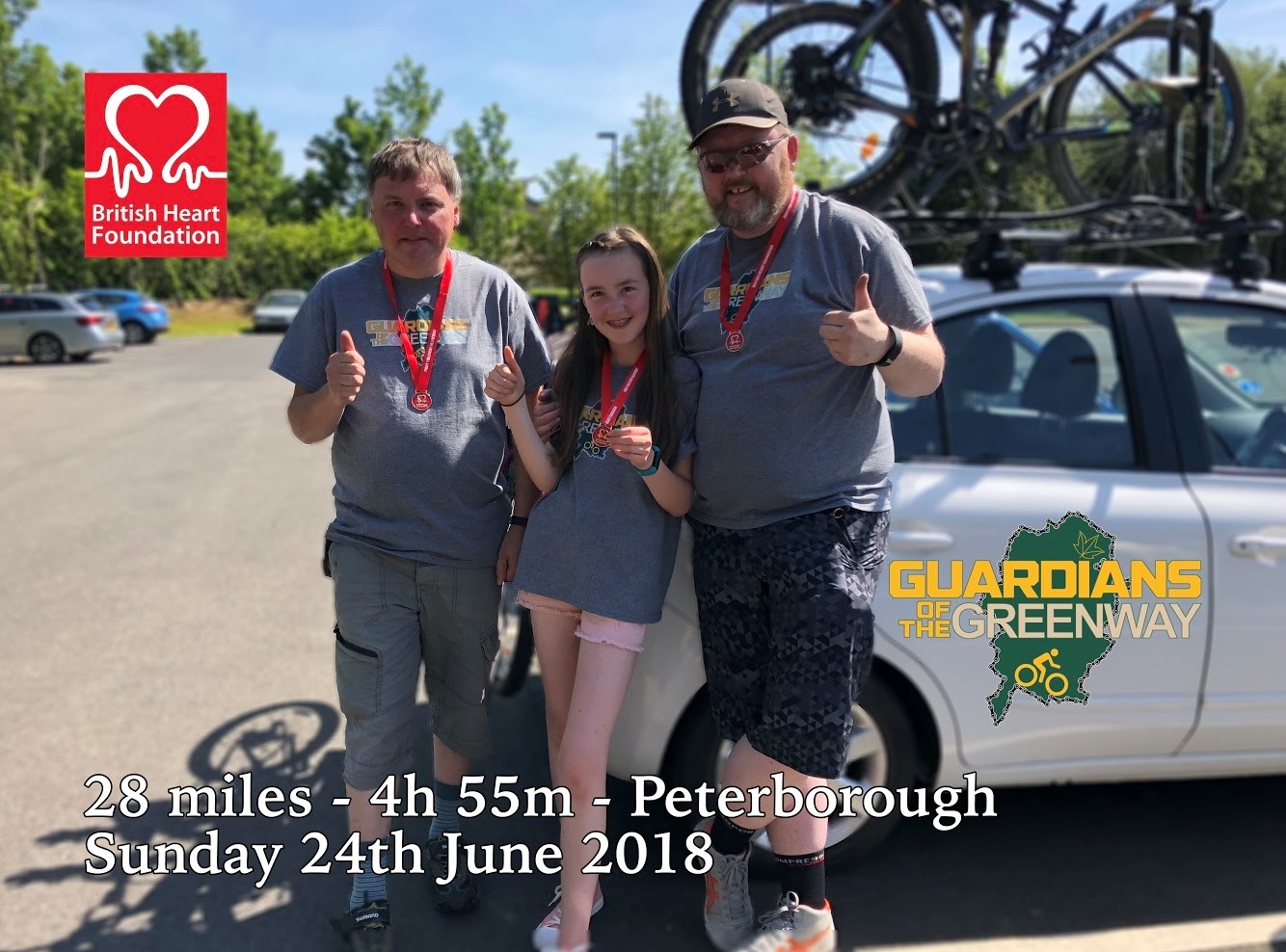 14th February 2018 – Wearing our bright red attire for Sue Ryder St John's hospice - We're all dressed up to support and donate to 'Love Your Hospice' campaign #LoveYourHospice. Managing to raise enough money to purchase a heart for £50, displaying our message of support, which could help provide one session of bereavement counselling.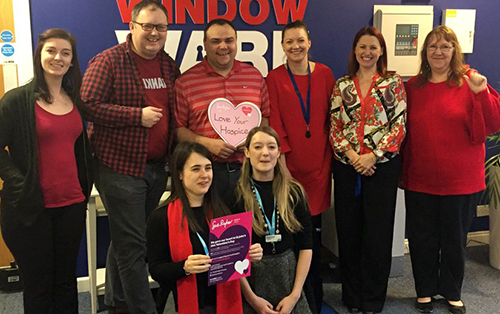 9th February 2018 – A year well spent - We've just totted up our 2017 fund raising total for our nominated charity - Sue Ryder St. John's Hospice. Thanks to the support of our customers, colleagues & business partners, we raised an impressive £1,304.19 last year. Well done to everyone who contributed their time & their money. You've set the bar high for 2018!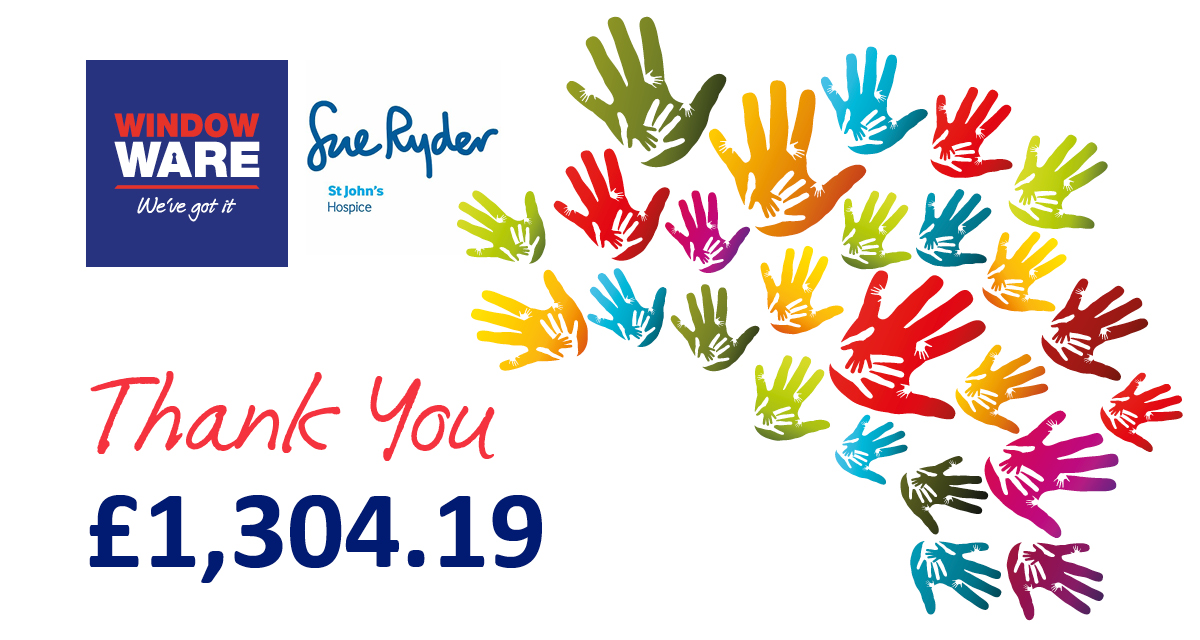 30th September 2017 – Stepping out for the Starlight Walk – six members of the Window Ware crew shunned the usual Saturday night shenanigans and instead donned their walking boots, waterproofs and dayglow pink war paint to trek 10K in and around Moggerhanger, Bedfordshire in aid of Sue Ryder St John's Hospice. They managed to powerwalk their way by torchlight across squelchy fields, muddy dirt tracks and tarmac to complete the route in just over 2 hours. Thanks to the generosity of family, friends and colleagues, team Window Ware managed to beat their £300 fundraising target to collect over £380 worth of donations. A satisfying night's walk indeed!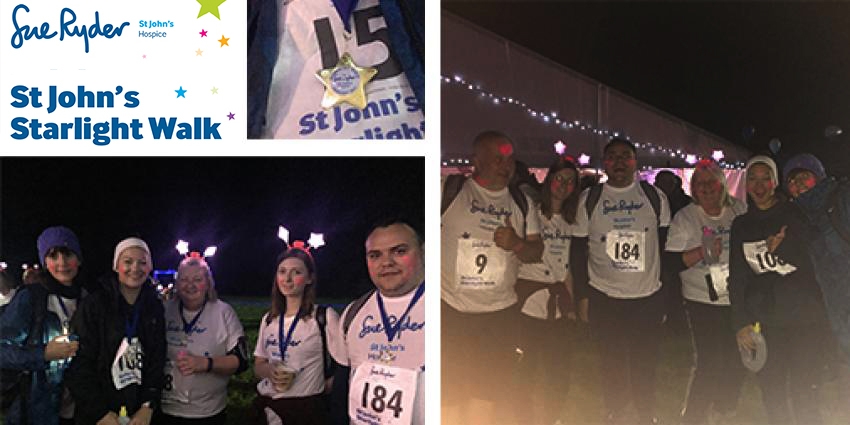 17th June 2017 – Cruising for a good cause – Over the super-sunny weekend, Window Ware's trade counter assistant and resident bargeman, Andrew, offered his skippering services and his floating home to hold a charity canal boat cruise in aid of St. John's Hospice . With a crew of five and enough supplies to feed a small army, they navigated the Great River Ouse, stopping near Great Barford for a picnic. Despite stubborn lock gates, sun burn, one trodden-on dog and a miffed daughter who returned home to discover her watery abode wasn't where she'd left it, a cracking time was had by all, plus they raised £100. Well done to our water-loving Window Ware crew!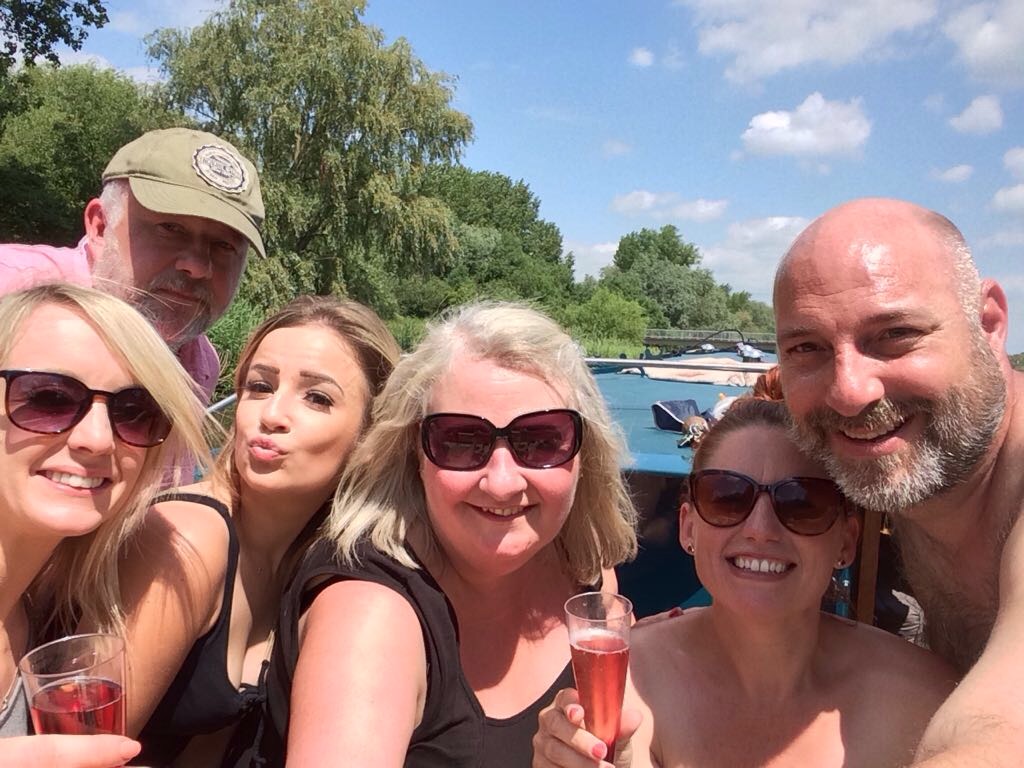 19th March 2017 - Sarah Gets Muddy for Charity Window Ware's head of internal sales and marketing, Sarah Binns, showed true grit (and plenty of grime) when she ran the Muddy Mayhem 5k Obstacle Race at the weekend in aid of Garden House Hospice Care. With the help of eight brave mums of her son's classmates, Sarah managed to raise over £600! A big well done to our fit and fierce fund-raising colleague!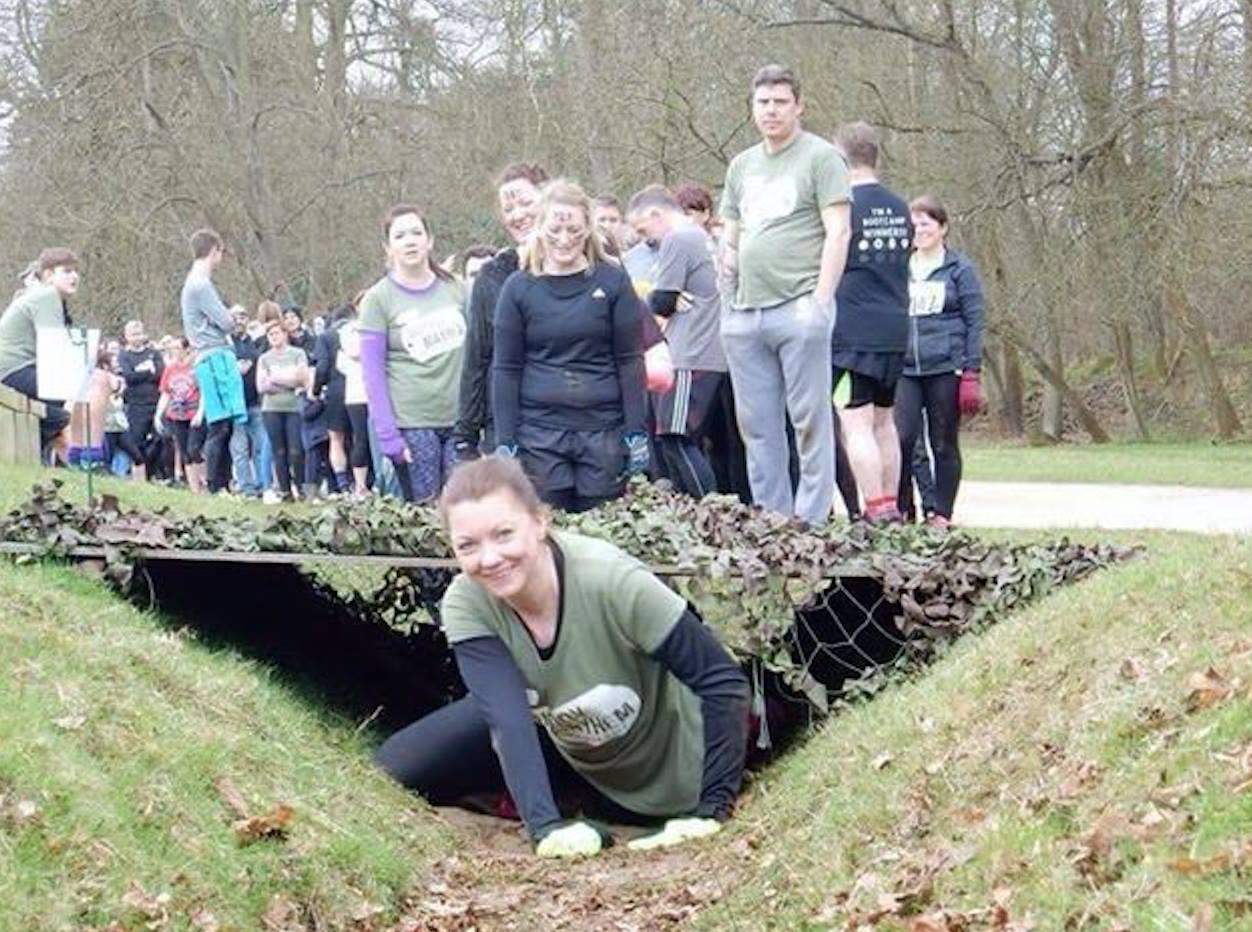 20th July 2014 - River Festival Boat Race - Huge well done to team Window Ware today. They not only made the raft, they had to enter a tough race in hot and humid conditions, whilst being pelted with eggs and flour. That's dedication for you! All in support of Keech Hospice Care. We're so proud of you all!