Aluminium hardware perfect for commercial projects
27 April 2022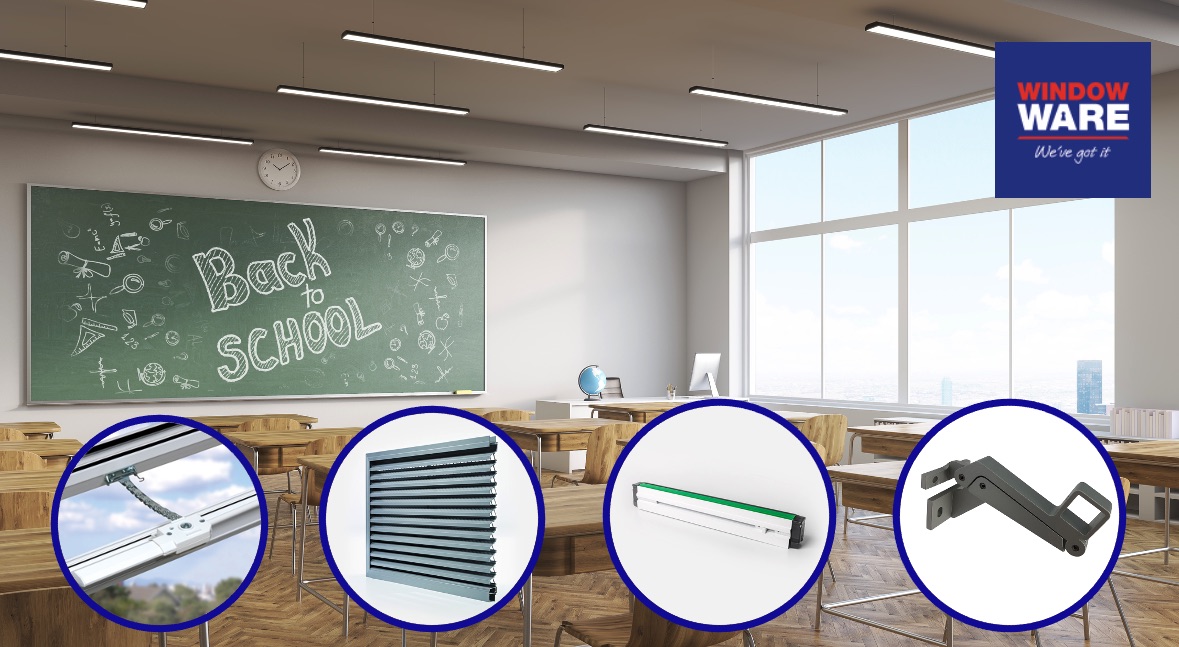 Fabricators sourcing the right aluminium hardware to meet demanding commercial contract work such as school repairs and office refurbishments will find the perfect supply partner in Window Ware.
We offer a wide range of highly specified aluminium hardware for commercial projects, including Caldwell folding openers, Highline electric and manual window controls, Axim Architectural door hardware and a range of bespoke, made-to-measure louvres and ventilators.
As the biggest distributor of Caldwell folding openers in the UK, Window Ware is the place to go for the largest on-the-shelf stock, sound advice and over 30 years of experience. Caldwell folding openers are often considered the go-to choice by many fitters and fabricators because of their renowned strength and accuracy which comes as a result of their extruded aluminium construction. Suitable for PVCu, aluminium and steel windows, these openers provide safe and secure restricted window opening either by hand at low level or by pole at high level.
For electric and manual window controls, Highline delivers a comprehensive selection of manual winding gear, electric actuators, openers and accessories to safely and effortlessly operate vents and all kinds of top-, bottom- and side-hung windows that are high up and hard to reach. A compact window control unit can help to achieve optimum air quality with rain and temperature sensors that open windows automatically if the room gets too hot and close them again if it gets cold or starts to rain.
With many schools and businesses still investigating ways of upgrading their air and ventilation systems to prevent COVID-19 indoors, both the Caldwell and Highline window opening systems offer simple, cost-effective solutions to improve air quality and help control the risk of infection.
With regards to commercial ventilation, we can also offer a range of ventilators including the very popular 'glazed-in' Airstrip range and acoustic (sound reducing) vents with various levels of Db reduction available.
Window Ware can also provide bespoke aluminium louvres. These fixed-blade louvres can provide physical free areas ranging from 34% to 70%, and are powder coated to marine grade as standard with a 10-year paint guarantee. These louvres are used to provide greater airflow into facilities such as machine rooms and bin stores. The louvre range also includes the DucoGrille Classic 130HP which not only gives 70% physical free area but, class-leading A weather rating too, making it ideal for installation where water ingress could be an issue. We can also add installation panels and plenum boxes to any of these louvres to allow connection to ductwork.
In additional to the standard range of custom-made louvres, we can also supply full louvre door sets (single or double) complete with hardware, louvred roof turrets and louvre screening. In the case of larger contracts, we can also provide the additional benefit of a fitting service.
For office, shop or school entrances, Axim hardware delivers top-quality, tried and tested closing solutions for commercial aluminium and metal doors. The range includes their best-selling TC-series concealed transom closers, panic exit devices, electric strikes, deadlatches and flush bolts to reliably and safely control access and secure entry point.
Richard Fraser, our Business Development Manager for Aluminium said: "At Window Ware, we have decades worth of experience in helping commercial fabricators meet demanding project briefs with our highly-specified aluminium hardware."
"Selecting the right hardware in the first instance can make or break any build or installation project. That's why it pays to choose a hardware provider that can offer practical pre-purchase advice and support to set you up for success!"
"Whether you're tendering for school window repairs or quoting on an office refurb, our hardware specialists can advise on which products will work best for your specific application to deliver the finish and the functionality your clients are after."
"With the summer holidays not far away, schools are putting maintenance and repair projects out to bid to get the classrooms ready for September. With the help of our product experts, we can make sure you win the contract with a tender that meets the project brief and stays competitive on price."
"Our comprehensive technical support is just one of the reasons why our customers count on us time after time for their door and window hardware."
For more information about our commercial aluminium hardware call 01234 242724 or email [email protected].