Built-to-last bi-fold door hardware from Caldwell
17 February 2021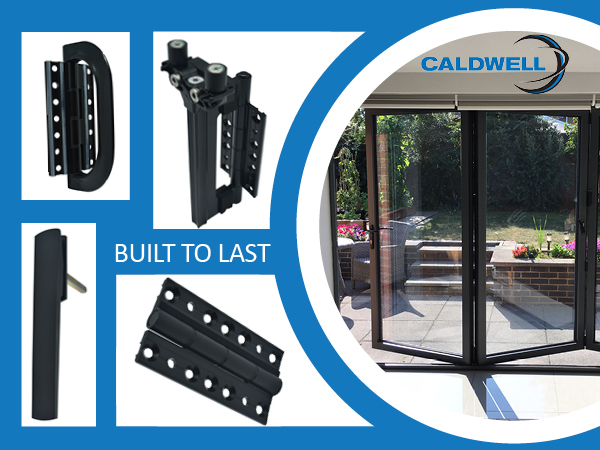 Find out why our range of hard-wearing bi-fold door hardware from Caldwell is a great match for the style and durability of Smarts Visofold 1000 and Exlabesa bi-fold doors.
There's no doubt that aluminium bi-fold doors appeal to homeowners because they are durable, low-maintenance and look the business with slim frames that maximise interior light and space. By choosing to fit hardware that really builds on these unique selling points and measures up with aluminium in terms of aesthetics and robustness, bi-fold door fabricators can create a premium, reliable product that ticks all their customers boxes – now and in the long term.
With this in mind, our newest range of bi-fold door hardware from Caldwell is a great choice for discerning fabricators using the Smarts Visofold 1000 profile specifically, although components will also work with the Exlabesa system too. The robust range includes ultra-discreet hinges, handles, rollers, magnets and more – with a variety of options to kit out almost any bi-fold door configuration.
As well as being quality tested and manufactured to BS EN ISO 9001: 2015, every component in the collection has been designed for durability with a heap of high-spec features and a 10-year warranty that ensures your aluminium folding doors will be opening smoothly and operating perfectly for years to come! In fact, Caldwell believe their folding slide hardware is made to last 25 years with regular use.
The rugged, smooth-sliding rollers can support panels up to 100kg thanks to chrome-plated brass wheels, quality bearings, strong 303 austenitic stainless-steel axles and a tough wear-resistant ZP5 Zinc alloy die-cast body. The top guides have a similar high-spec construction and are available in standard or single configurations.
Both hinge variants (twin knuckle and D handle) are sturdily made from extruded aluminium with stainless steel hinge pins and a die-cast zinc handhold for a firm grip when opening and closing stacked door sets.
Quality and longevity assured, Caldwell bi-fold gearing has also been fully tested to PAS 24 giving both fabricators and homeowners the security performance and peace of mind they want.
Caldwell's bi-fold hardware solution is already a firm favourite with some of our customers. Damien Greenway is the Production Manager at Essex-based fabricator, Fortress Aluminium. He explains, "We use Caldwell bi-fold hardware in our door assemblies because it's a high quality, fully accredited system."
He goes on to say, "As a preferred supplier, we can trust Window Ware to deliver a wide range of hardware suitable for our Smarts aluminium system, e.g. the Yale high-security bi-fold door lock, Yale residential locks and the Kenrick Nemesis window lock. They are also one of our key suppliers for the PVCu side of our operation as well. Window Ware's sheer breadth of range means we can keep things simple and check off our entire parts list in one go!"
Caldwell bi-fold hardware is available to order now in 4 standard finishes - black, HIPCA white, polished chrome and brushed steel. Fabricators can go online to browse our comprehensive range of bi-fold door hardware (including Caldwell rollers, hinges and handles, plus the Yale bi-fold door lock) now.
For help with product selection and specifications, and building the right bi-fold hardware system, speak to our sales team on 01234 242724 or email [email protected] There are lots of COVID-safe ways for you to still get the answers you need - whether it's a simple phone call, a virtual meeting or a social-distanced site visit – our Window Ware experts are on hand to help.