Choosing the right lock for a composite door
30 May 2017
Want a lock for a composite door but need a little advice? This article explains the options available and helps you make the right choice to achieve the look, finish and functionality you want.
With their stylish good looks, improved security and insulating properties, maintenance-free strength and durability, and wide choice of finishes, it's no wonder composite doors are proving increasingly popular with developers and home owners alike looking to add value and personality to a property.
When it comes to choosing the right lock for this type of door, it's important to select one that is designed to work specifically with a composite construction. That way, you'll ensure a tight, even fit for the entire length of the frame, enhance overall security and achieve the look you want. The most common way to secure a composite door is with a high-security multipoint lock and Window Ware offer a range of these products to suit any preference.
Depending on how you want your door to look and function, there are four types of locks to choose from…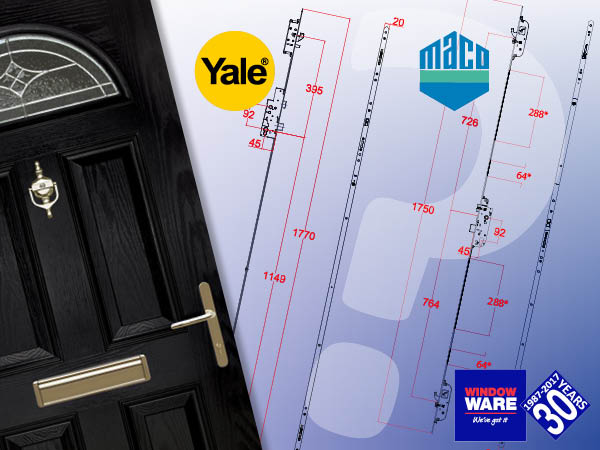 1. LEVER/LEVER LOCK - If you want to be able to go in and out of your door unhindered, then a lever/lever lock lets you access the property easily without a key until completely deadlocked. This kind of lock is usually fitted to a back door where there is less chance of unauthorised entry. Window Ware sell a Lever/Lever variant of the Yale Lockmaster 2-hook lock for composite doors (product number: PAD18120RE) which can be purchased online here.
2. SPLIT SPINDLE LOCK - If you want to prevent access from the outside automatically, then a split spindle operation should fit the bill. With this lock, you can open the door and exit easily using the inside handle, but you'll need a key to work the latch bolt and get back in. Most front doors are like this. Window Ware offer several split spindle locks: The Yale Lockmaster 2-hook composite door lock is available with a radius ended 20mm wide faceplate - view pricing. If you opt for the Yale Lockmaster 2-hook door lock with a 44mm wide cover banding faceplate, it comes in a choice of finishes: white PVC and white-, brown- or black-coated aluminium - view pricing. Alternatively, for an even tighter weather seal and better corrosion resistance, you could plump for the stainless steel Yale YS170 3-hook composite door bolt which is available in several backset and faceplate options - view pricing.
3. KEY WIND-UP LOCK - If you want to steer clear of typical lever handles entirely and opt for traditional pull door furniture typically fitted to period properties, then a key wind-up locking system will suit your needs. This lock is handle-free and entirely key operated, and when you close the door, the latch bolt will engage automatically, so you'll always need a key to enter the property. The Yale Lockmaster KeyTurn multipoint lock offers both high performance and elegance, with options ideal for use in contemporary designed 'pull' doors and traditional townhouse style doors.
4. SLAM LOCK - For super-fast instantaneous locking, slam locks activate the lock hooks as soon as the door is closed – no need to lift the handle. You'll need a key to open the door from the outside, as well as bolt the door from the inside. If safety is paramount and you want to secure the door in a hurry, then a slam lock is the best choice for you. From the Window Ware range, we would recommend the MACO ZTA 2-hook lock or the MACO Varia offset handle height composite slam lock both in 45mm backset with 20mm radius-end faceplate.
We hope the information is this article will help to guide your choice and give you the confidence to select the right lock for your composite door. However, if you're still unsure or have further questions, why not call 01234 242742 to talk to one of our experienced, knowledgeable sales team or email [email protected]?