Looking for a moon knife? We can help...
4 May 2017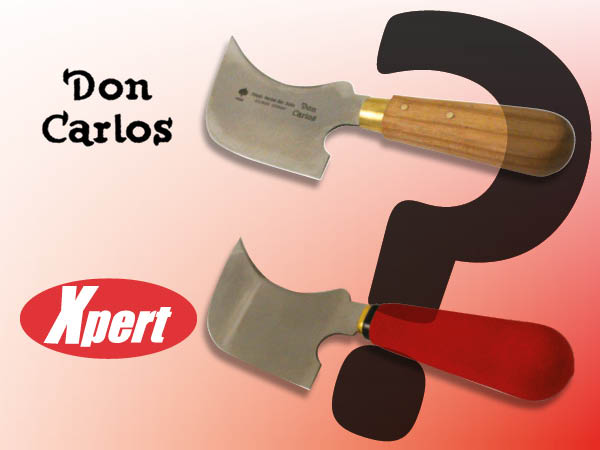 You've come to the right place! Follow our guide to identify the right tool for you…
Whether you want to splash out on a top-of-the-range Don Carlos or shop smart for comparable quality with a competitive price tag, Window Ware stock a moon knife to suit your needs and your budget.
Originally designed to scrape and work leather hides, this crescent-shaped blade is now widely used in the glazing and window industry as a deeper-blade alternative to general-purpose retractable knives. Contrary to belief, moon knives are not designed to remove uPVC window beads (this usually results in a snapped blade) but rather to quickly and cleanly remove sprue from window welding joints with the help of a sprue guide. However, if it's a bead remover you want, then the Xpert 10 in 1 multipurpose knife, Don Carlos pallet knife or Xpert 32mm chisel knife would make more durable, more effective solutions.
You'll find three moon knives available on the Window Ware webstore. Their shape and function is essentially the same, so your choice will depend primarily on your budget, your usage and your brand preferences. Let's take you through them one by one:
We'll start with a name synonymous with moon knives – Don Carlos – the original and best-known make, with its traditional wooden handle, quality steel blade and old-school design. Due to its premium price tag, the Don Carlos moon knife isn't going to make it into everybody's toolkit; it would however make a great choice for the discerning professional looking to kit out their home workbox with a classic, beautifully-made tool.
For quality performance and design which comes close to the leading brand for half the cost, you'd be hard-pressed to beat the Xpert moon knife. Like the Don Carlos, the Xpert moon knife boasts a high-quality steel blade which rings like a crystal glass when struck. It also has a non-slip safety handle, keeping you firmly in control of the blade at all times.
Our cheapest option is the Xpert Trade Moon knife. With its soft grip handle and polished steel blade, it'll do the job well enough, but if you're particularly hard on your tools or you're planning to use it every day, out in all weathers, it would be worth paying the few extra pounds for the improved durability and corrosion resistance offered by the Xpert Moon Knife.
We hope this guide helps you make the right choice of moon knife. Whichever option you go for, make sure you always wear safety gloves to avoid any nasty nicks or damaged digits!