Window Ware is a G18 Awards finalist
2 October 2018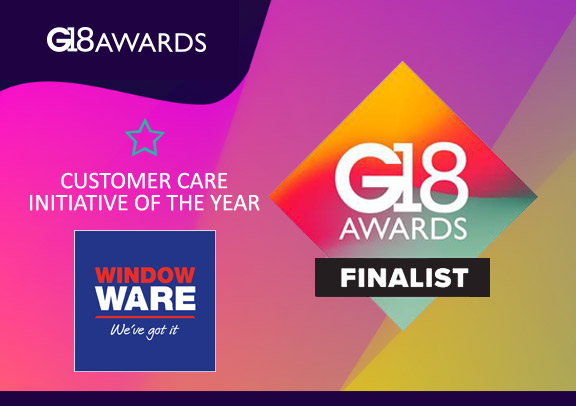 Here at Window Ware, we've been celebrating our recent nomination for 'Customer Care Initiative of the Year' at the G18 Awards.
This award nomination tops off a remarkable year for us, during which we won the 'Service Excellence' award at the SME Bedfordshire Business Awards and were also named the UK's best hardware supplier by an independent industry survey. These accolades are almost certainly the result of near-perfect monthly OTIF scores and consistently high levels of customer satisfaction, which are achieved by continued investment and a meticulous approach to service.
"Following on from our success at our local business awards, we are delighted to be nominated at the G Awards, especially in the 'Customer Care' category," comments Sarah Binns, Window Ware's Head of Internal Sales and Marketing. "The whole team works incredibly hard to go above and beyond for our customers, and it's fantastic to see that committment recognised by both our local and industry peers. This is a huge honour and we couldn't be prouder."
Managing Director, Sam Nuckey adds: "Every decision we make at Window Ware aims to deliver the best possible service, whether we're investing in new technology, introducing new product lines or working with like-minded brand partners. It's an ethos which has driven us over the past three decades and is exemplified by our dedicated team. To be nominated is a fantastic achievement and really demonstrates what businesses can expect when they partner with Window Ware. We look forward to the big night in London!"
We'll find out if we've won the G18 award at the glamourous black-tie event held at the Hilton Hotel on London's iconic Park Lane on Friday, November 30th. We'll head back to the capital again in December to discover the results of the SME National Business Awards following our victory in the regional finals. Exciting times indeed!