Our new commercial door hardware ebrochure is out now!
22 January 2021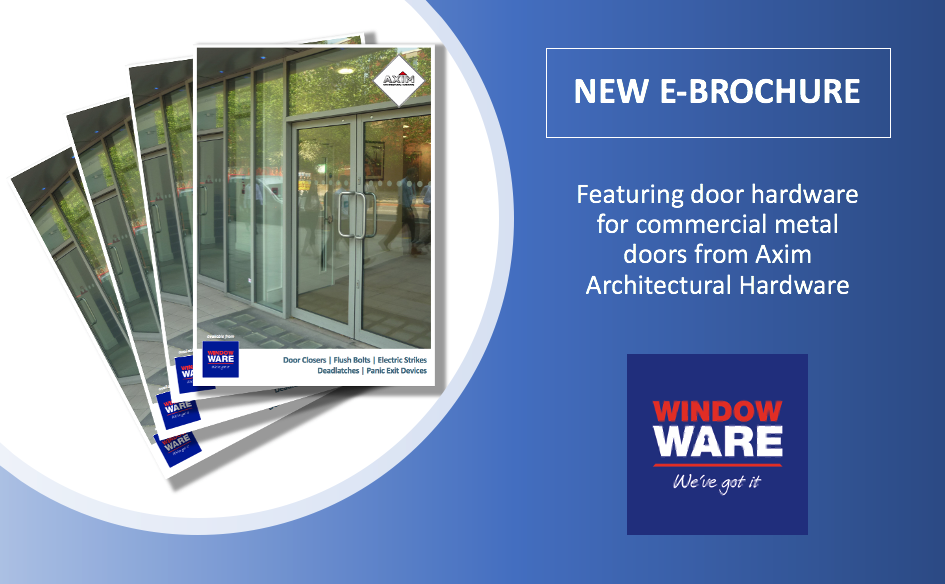 Presenting 20 pages packed with top-selling closing solutions for all kinds of commercial aluminium doors developed by industry-leaders Axim Architectural Hardware.
The ebrochure is the final piece of a launch campaign which started back in March 2020 but unfortunately got interrupted by the COVID-19 pandemic.
Even without the brochure, the new range has already proven extremely popular with commercial door specialists looking for the kind of tried, tested and trusted hardware that will guarantee their customers the quality, longevity and reliability they want for their office entrances and shop fronts.
The ebrochure showcases Axim's renowned collection of durable, easy-fitting EN 1154-complaint concealed overhead transom closers, including the TC8800 transom closer and its longer spindle variant, the TC9600 – both top choices for commercial door fabricators. Plus, the fully adjustable TC9900 – the go-to replacement closer for many a door repair.
Complementing these door closers, there's also a comprehensive range of secure flush bolts and dust-resistant sprung loaded socket keeps, fail-safe or fail-secure site configurable electric door releases, burglar-resistant locks and deadlatches, plus BS EN 1125-compliant panic exit devices to suit most swing and sliding aluminium or steel commercial doors.
Window Ware's Business Development Manager for Commercial and Aluminium, Rich Fraser, is delighted to have the new ebrochure to hand. He is confident, "It's going to be a useful and convenient reference tool for our customers. It will tell them almost everything they need to know about our Axim commercial door hardware, all brought together in a single document for quick and convenient fact-finding and informed product selection."
The Axim commercial door hardware ebrochure is available to read online here. For further questions or price enquiries, the Window Ware sales team is ready to help in a COVID-secure way – whether that's over the phone, by email or via a virtual meeting. Call 01234 242724 or email [email protected].