3 great reasons to choose Window Ware
1 October 2021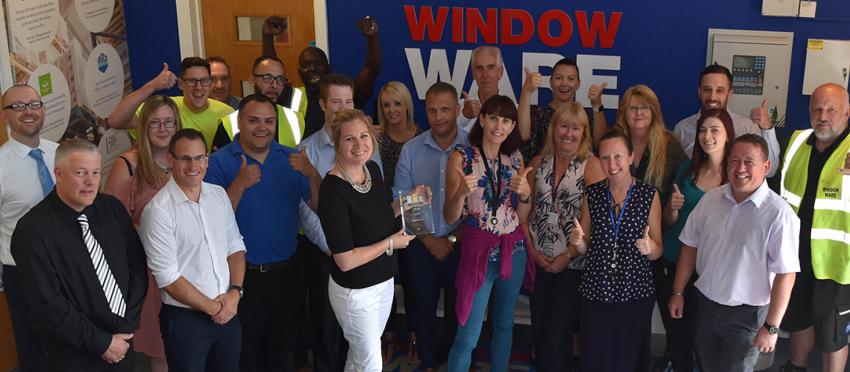 If you've never bought from us before, you're going to want to know what makes Window Ware different from all the other hardware suppliers on the market. Products aside, you know the customer experience and value you receive from one supplier to the next can vary wildly. But when it's your reputation on the line if you miss a deadline because fittings and materials fail to turn up, it becomes even more important to find a reliable, proven supplier.
We think we've got what it takes to win your trust and we're going to prove why your door and window hardware orders are safe with us. Here's our trio of great reasons to choose Window Ware…
#1 Proven service excellence
Despite all the well-publicised challenges that the pandemic has created for the entire industry, customer happiness has remained reassuringly high at Window Ware, with an average happiness rating of 93.9% for 2021.
In addition, Window Ware has been shortlisted for the G-Awards Best Component Supplier, Best Customer Care Initiative and COVID-19 Business Hero, PLUS our Credit Control Manager, Sharon Fowler, is also a finalist for the Unsung hero award. It all goes to show our service is second to none!
The accolades don't end there! We've also been shortlisted for Best Hardware Provider and Best Trade Counter in the 2021 National Fenestration Awards. These awards are entirely industry-led with all finalists voted for and chosen by people like you, who are actively working in the fenestration trade. That makes these awards a great indication of the outstanding level of service you can expect to receive at Window Ware.
#2 Customers are our top priority
We know time is money and our customers are busy people. That's why we strive to answer the telephone as quickly as possible. In fact, we consistently answer over 97% of incoming calls within 10 seconds or less. And unless the office is closed, our phones are picked up by real human beings rather than robots, ensuring you'll always get the personal touch and a prompt, meaningful response when you dial our sales support number.
When it comes to making an order, our customers call the shots! We accept orders by phone, by email or via our website – whatever works for you. And we don't set minimum order quantities, so you can order only what you need, just when you need it.
As a Window Ware customer, you'll get your own dedicated sales contact who will work with you to solve your sourcing issues with best-fit hardware solutions. Rest assured, you'll receive tried-and-tested advice from proven experts. Some of our colleagues are either ex-manufacturers or ex-fitters, and many have worked in the window and door industry for years, so they really know their stuff and have loads of practical insights to share.
What's more, we continually train our staff to keep skills up-to-date, knowledge fresh and ensure our finger stays firmly on the pulse. This all means we're primed and ready with the answers you really need.
#3 We deliver right on time
We know dependable delivery is high on your hardware supplier wish-list. When you order your goods, you expect them to arrive promptly, completely and correctly, because if they don't, it causes production delays or missed deadlines.
So, you'll be glad to know that for the last 7 months, despite a straining post-pandemic global supply chain, we still achieved an average monthly OTIF score of around 94%. In other words, 94% of all items ordered arrived with the customer on time and in full. And when we say, 'on time', we mean next working day! Even better, we've managed to beat this figure by an extra 2 percent in September, bringing our OTIF to 96.4% - the highest level since the end of lockdown 1.0! Just what you need to hear when you're working with tight turnarounds or last-minute requirements.
If, after reading this, Window Ware sounds like a supplier you could work with, why not get in touch? Give us a call on 01234 242724 or email [email protected]. We'd be happy to help you with your hardware requirements.